This shotgun has a Raptor bird's head pistol grip, shaped to minimize recoil. After personally examining one, we found it has an ambidextrous safety on the top that can be used by either hand, two extractors, a steel-to-steel lockup, twin action bars, and an anti-jam elevator. We would recommend the aftermarket high rise steel safety, which is easy to replace with just a screw driver.
To make this legal, A brand-new receiver is fitted with a pistol grip first at the factory instead of a shoulder stock or pistol grip. The 14″ barrel Mossberg 590 Shockwave with Raptor bird's head grip gives the gun an overall length of 26.32″. That makes it a firearm not a shotgun. Do NOT make any alterations to this gun or change the grip or this gun will be illegal. Shockwave features are similar to the "witness protection" shotgun used by many agents. The 590 is tougher than the normal Mossberg. It is classed as Tactical and normally made for military and law enforcement.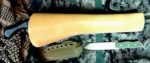 Now becomes the problem. No one previous to Chisholm's Trail has made a leather or nylon carry scabbard that does NOT have the trigger guard exposed. We have had numerous law enforcement and military customers come to us and request a scabbard that covers the trigger guard and has multiple features.
Our basic model has top and bottom attachments on the left side of the scabbard to carry it over your shoulder. The same attachments allow you to order an alternate drop belt loop and leg tie.
Other attachments will allow you to wear it bandolier style on your left or right side for a cross draw with your right hand.  We also offer attachments for MALICE clips to the back of the scabbard to secure to the reverse side of your backpack. Basic scabbard with two Malice clips ~ $174.95. Adjustable shoulder strap, drop belt loop, bandolier strap, and waist belt all available at an additional cost. Call and design your own scabbard. Heavy duty and ready for rough use- get yours now.