CHISHOLM'S TRAIL HOME PAGE
As with most companies, we have incurred increases in materials and shipping costs. We can not change every listing, so
please scroll down
 and read the pricing and instructions prior to calling to place an order ~ Thank you
Harris Family Custom Creations, LLC
   P. O. Box – 2515
      Weatherford, Texas 76086
   (817) 594-1239
Doing Business as
                CHISHOLM'S TRAIL LEATHER               
SPECIAL NOTE: 
We are experiencing  increasing shipping costs for distance, weight, and box size,
therefore we will now have a standard shipping fee of $35. Multiple rigs will incur standard shipping per rig.
           We are open from 9AM to 5PM East coast time Monday – Saturday. Please do not call on Sunday. If we are unavailable during business hours, leave a message and we will return your call as soon as possible. Please speak clearly when leaving your message and phone number. Multiple messages will NOT speed up a response.
NEW NEWS ABOUT OUR LEATHER PATTERNS
We got some unexpected help in 2023 from our nephew who just retired from the Green Berets as a full colonel with 30 years' experience. He was visiting and wanted to count our pattern packs. These consist of personally created items, shared items, for sale items, and others. Our list covers holsters, belts, knife sheaths, bullet slides, mag pouches, saddle bags, and many other items. He counted over 1,550  patterns, give or take a small factor. We had no idea that we had accumulated that number over the last 20 years. So, you can see, unless you have a  unique or odd revolver or semi auto, we can probably fit your gun. Give us a call or e-mail with what you need.
All of us at Chisholm's Trail support our

LAW ENFORCEMENT 

community 100%
ALL OF OUR MATERIALS, LEATHER, HARDWARE, BUCKLES, COLOR STAIN, FINISH, ETC. ARE MADE AND SOURCED IN THE U.S.A. "ONLY. " We apologize, but due to recent increases in materials needed to make our American made products, prices of items are subject to price increases without notice.
SEE WHAT'S NEW ~  REVIEW THE RECENT POSTS ON THE RIGHT SIDE OF THIS PAGE
"THE BITTERNESS OF POOR QUALITY AND INFERIOR GUN LEATHER REMAINS LONG AFTER THE SWEETNESS OF LOW PRICE AND QUICK DELIVERY IS FORGOTTEN."
The Wait is Worth it…
AS RICK SAYS "Do only whole and complete work"
  This video was presented by the Founders of Chisholm's Trail leather and left in place for both historical and informational purposes.
"Be not afraid of growing slowly, be afraid only of standing still"  
     

 

                 Click on the

picture

 buttons above to see what we make                                                           
READ THE PAGE BELOW

 prior to ordering for construction time frames, how to measure, shipping, payment, and other questions"  
WELCOME TO CHISHOLM'S TRAIL OLD WEST LEATHER

"Keeping Old West History Alive"
Sit a spell and look over the custom and historical leather items we make, including holsters, gun belts, knife sheaths, rifle scabbards, saddle bags, spur straps, hat bands, buckles, and more. We also make modern gun leather. Chisholm's Trail is a frequent supplier of Old West Cowboy & modern gun leather to the 

Film Industry.
You Order By Calling Us Directly ~ (817) 594-1239
           We are available from 

9AM to 5PM

 

East coast time. Please do not call before or after this time.

        "NEW"  ANASAZI EAGLE FEATHER (Not in stock at this time)
Large, hand made, 4 1/4″ x 1 1/2″ feather pendant with good size loop on the back for a necklace. One of the nicest, largest, and most detailed feathers we have seen. Cast in the four corners area of the Southwest in solid American special brass and commercially nickel plated. Our normal price ~ $59.95, plus shipping and handling. CALL now so you will get one in time. (Click on photo for large view) *Available in solid American Sterling Silver upon request ~ $174.95*  Soft flocked 18″ necklace with secure clasp add ~ $9.95

IMPORTANT:  PRICING AND INSTRUCTIONS                                   

CAN CHANGE WITHOUT NOTICE

 
IT IS 

VERY IMPORTANT

THAT YOU READ NOTES BELOW PRIOR TO ORDERING:
IMPORTANT SHIPPING NOTES: If you are shipping something to us via U.S.P.S. you can use: P.O. Box-2515, Weatherford, Texas 76086. If you are using UPS or FEDEX you will need to ship to ________. FedEx or UPS will NOT ship to a P.O. box…
∞ All photographs on this website are copyrighted and may NOT be used or reproduced in any manner without specific permission for rent or use photos and/or descriptions. Many antique looking holsters on this website are originals in the Chisholm's Trail company collection. We are able to deconstruct them and recreate historical gun leather authentically – as it should be.                                       

∞ PLEASE READ BELOW TO CHOOSE WHAT YOU WOULD LIKE, THE COLOR, AND HOW TO MEASURE FOR A BELT BEFORE  YOU CALL.
∞ We enjoy personal input and historical discussions. For this reason we DO NOT  use a shopping cart concept. Call anytime between 9:00 AM and 6:00 PM East coast time. The phone will not be answered before or after this time.
∞ Currently we are several months in back order and the wait is worth it-  We appreciate you visiting our historical gun leather web site.

∞ Chisholm's Trail does NOT receive or respond to text messages or photos, please e-mail these items.
∞ Upon Request- Gun Leather sets will come with a "Certificate of Authenticity" for only $10.00. However, If your order is the first one of the style or pattern, then you get your $10.00 Maker's certificate FREE, as well as # 1 stamped on your leather. 
∞ It is critical when measuring the barrel of your revolver to start at the far end of the cylinder and measure to the far end of the barrel. Note that the barrel threads through the frame and touches the front of the cylinder.
∞ For a lining add $59.95 per piece.
∞ For antiquing and distressing add $74.95 per piece. We have had to increase the price for this process because it is so time consuming and difficult but it sure looks good.
∞ We ONLY antique the front of the holsters and belts. This reduces the chance for color transfer to your clothing.
∞ For edge decorative stamping on holsters add ~ $15. For edge stamping on belts add ~ $25.
∞ For hand carved flowers and vines on a holster add ~ $59.95. Carving on a gun belt add ~ $69.95.
∞ Standard shipping and handling is $34.95 for priority USPS with tracking and insurance.
∞ For hammer thongs, leg ties, Sam Browne studs, or snap straps add $15.
∞ Many holsters are secured in the back with Chicago screws, especially those done that way in the Spaghetti Westerns. This allows you to put a holster on over a belt with bullet loops on both ends of the belt. If you do not want Chicago screws then it is only possible to put bullet loops on one end of the belt or in the middle. Holsters will NOT fit over bullet loops. It is your responsibility to let us know if you do NOT want Chicago screws.
∞ If you have any questions about the back of a holster, please contact us and ask them prior to ordering.
∞ All Rigs come with 18 bullet loops in your caliber. For bullet loops over 18 add $3.00 per loop.
∞ For Fiebings oil base color stain add ~ $15 per piece. Color choices on the small Cowboy Boot key chain samples on the home page. There is no guarantee that the color you choose will be exactly like the color in the web site photos due to different hides of leather absorbing color at different rates.
∞ Note: try to order all of your items at the same time, or there could be a slight color shade difference due to different cow hides taking oil base color stain slightly darker or lighter.
∞ Due to changing and increasing costs for materials from our suppliers – our prices are subject to change without notice. We now a $15.00 increase per piece.
∞ Click on the photo of the item you would like to purchase for a LARGER VIEW view. You can then see more clearly exactly what you will be getting. If you have any questions please ask prior to ordering. We make Our Versions  of the originals and all sales are final.
∞ Many of the photos of gun leather you see on our site are real vintage. These original items are obtained as we travel out West every year, visiting museums and notable personal collections. This allows us to frequently obtain historical examples to reproduce. 
∞ We do our best to recreate items as close as possible, but all of the creations are "Our Versions" of the originals.
∞ If you have photos or examples of gun leather we do not make, please e-mail photos of them. We should be able to make them for you.
∞ Sewn bullet loops can rip, as a result we punch slots and weave our loops through the leather which can not rip. This process also makes it easier to grasp the cartridge top to remove and pushing the bullet into the loop will not scrape the surface of the belt like sewn loops. We do not do sewn loops.
∞ Use of pebble grain leather adds $25 to the project. There has been an increase from the tannery and this dense leather is rough on belt working tools.
∞ For belts over 49″ add $29.95. They will have to be made splicing two pieces at the back and will have a cover piece that  you can add a concho if desired.
AUTHENTIC BACKGROUND RESEARCH:
Here at Chisholm's Trail, we, or the Founders have visited most of the significant museums and private collections in our quest to bring accurate, authentic, historical gun leather to light. Therefore we have started a new endeavor called "HISTORICAL GUN LEATHER ARCHAEOLOGY. " This will involve all of the tasks and research details we have learned in the past twenty years. We will continue evolving this discipline as we bring to light more famous outlaw and lawman leather that would have been lost to posterity if these processes had not been completed. You would be surprised at how many museums are closing and selling these items. Once they are in private collections it is almost impossible to see or examine them ever again. If you know of a historical holster rig that we do not have on this site, or a unique buckle, please contact us .
This video was presented by the Founders of Chisholm's Trail leather and left in place for both historical and informational purposes.
VIEW THE SHORT VIDEO ABOVE TO SEE OUR TACTICAL KNIFE DIVISION
Chisholm's Trail introduced the new (Air, Sea, & Land) ASL-5 SCOUT Tactical / Survival knife at last year's Atlanta Blade Show. At this year's Blade Show we introduced our new ASL-4 FIRST RESPONDER. These blades have gained so much interest that the FMG Publications staff touring the show interviewed Alan Soellner about this line of superior blades. Click on the arrow above to watch the video. More about these knives and pricing on our knife button.
ABOUT CHISHOLM'S TRAIL OLD WEST LEATHER SM, LLC.
Chisholm's Trail Old West Leather is official and trademark has been applied for. Our designs and accessories are copyrighted and can not be replicated in any way, shape, or fashion. All prices are subject to change at any time due to materials price increases.

RIDE FOR THE BRAND – That was a phrase used in the old west. It means that you've got loyalty, pride in yourself, your job, and the land. So saddle-up, toughen-up, cowboy-up and buy Chisholm's Trail gun leather. We do NOT have a shopping cart. We feel that is rude and we prefer to spend time talking to you and tailoring Old West cowboy leather to your specific needs. Please look below for your color choices. Most of your questions will be answered by reading this home page.
TEXAS RANGER ENGRAVING ~ We have partnered with a world class engraver that will engrave your Colt 1911 or other gun with old style see <

dallasengraver.com

> Be sure to tell KEN we referred you…
NICKEL PLATING ~ We have had nothing but superior service and quick turn around from Ron at Mahovsky's Metalife for old west nickel plating. Suggest you contact Ron at  http://www.mahovskysmetalife.com/ . Please tell  him Alan from Chisholm's Trail sent you.
ABOUT US: Here at Chisholm's Trail we produce all our Old West gun belts and cowboy gear from original historic pieces or period patterns from vintage sources. Many items we make are similar to examples found in the National Cowboy Museum in Oklahoma City, The Gene Autry and Buffalo Bill Cody Museums. Others are from the pages of the book "Packing Iron", "Tombstone – The Guns and Gear", and similar great collections of the American Cowboy, featuring Old West gun belts. ***We have not raised our prices in many years. However, because of the constantly increasing costs of leather, oil base stain, saddle finish, hardware, shipping, handling and other factors we are having to raise our prices by $10 per item. If you are in a hurry this might not be the place for you. We are currently about 6 -7 months in back order and the wait is worth it. We take great care with each item and the name does not go on till the quality goes in. All exotic hides and skins we use are obtained legally and we are assured the proceeds go for game management and improvement in wildlife habitat. Note: we only use free range American cattle hides, therefore you will occasionally find an insect bite mark, wrinkle or a barb wire scar. This is unavoidable and adds to the authenticity of the piece. Our leather gear is made in the natural russet color from the tannery. We charge $10 per piece for oil base stain and hand rubbed saddle finish.

Chisholm's Trail Old West Leather can directly trace its roots to Jesse Chisholm who blazed the first famous cattle trail North out of Texas. Alan Soellner, the Founder a descendant of Jesse, has visited many of the old leather & saddle shops in the West and has learned "Sheridan Carving" from K.C. Krueger and some of the other current masters. He learned leather working skills from John O'Rourke of Hartsell, Alabama who is one of the best leather crafters extant. This is why craftsmanship on our Old West gun belts is rare and of high quality. Valuable advice has also been shared by Will Ghormley, a great pattern maker. Alan has been personally trained by the world famous John Bianchi, Holster Maker to most western movie stars from John Wayne to the present day. Bob Arganbright has been especially helpful with his knowledge of movie and TV western rigs and patterns, Jeff Carnes has helped numerous time and is a master when working with curved cowboy belts and floral tooling and has won significant awards. Donna, also a founder, wife and partner, grew up in Peabody, Mass., the town called Tannery City. Her father made his living by tanning leather and her mother colored leather for the Lawrence Leather Company. The magazine cover "cowboy single action holster" to the left is our Buffalo Bill set. The 45 auto holster is made by John Bianchi of Frontier Gun Leather.com. Chisholm's Trail holsters and belts are also often featured on the cover of this magazine.                SPECIAL NOTE: KEVIN, MARIAN, AND SHARON HARRIS have attended a detailed several day, in depth, training session by the Founders and have received their certificates of outstanding completion in gun belt and holster construction and finishing. They can handle your business.
For the finest in cowboy history, guns and gear be sure to immediately order your subscription to "GUNS OF THE OLD WEST" magazine. You get a discount by ordering on line. They are really great folks.   https://www.subscriptioncore.com/product/guns-of-the-old-west
Don't forget to view the "BUCKLE" button for our continually growing line of historical and western movie buckles.
NEW BADGE COLLECTION
DODGE CITY MARSHAL
(Original photo) (IN STOCK) 

Our USA made Dodge City  U.S. Marshal badge replica has an antique silver looking finish, with a law enforcement grade hinged pin and (C) clasp on the back. The badge will be 2 3/4″ tall as the original. Note the unique font for the letter (L) at the end of the word Marshal. We are offering this badge at an introductory price of $59.95. A limited number made so order your authentic copy today. 
THE BADGE ON THE LEFT IS THE ORIGINAL IN SILVER COLOR. THE BADGE ON THE RIGHT IS OUR REPRODUCTION, ALSO IN SILVER COLOR.
DODGE CITY DEPUTY MARSHAL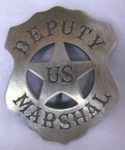 (IN STOCK) Replica Deputy Marshal badge as worn in 11 seasons and 304 episodes. Two badges were used with different fonts. Our replica is the fancier one.  Badge has a heavy pin clasp on the back side and is not as thick as the U.S. Marshal badge ~ $39.95
BJ ~ 16 B ~ DODGE CITY MARSHAL PANT BELT & BUCKLE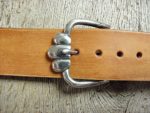 We want to thank all of our loyal customers that encouraged us to create this iconic buckle worn by the famous Dodge City Marshal in every episode after season one. This custom USA made, stylish triple lobe, heel bar buckle is 1 3/4″ available in white bronze only. There will be a limited number made so please call now and get yours ordered. Buckle alone ~ $59.95. Buckle and spear pointed 1 3/4″ pant belt ~ $149.95.
ORDERING IS SIMPLE AND EASY for Old West gun belts and other cowboy gear :
We DO NOT believe in the "shopping cart" concept.
We prefer to talk to our customers in person and provide input. However, we can complete some orders over the internet if you wish. Please feel free to contact us anytime reasonable Texas time. Call (817) 594-1239. Basic rigs are unlined and the gun belts are provided with up to 18 cartridge loops (additional loops are $2 each) and an edge groove. To add one line of decorative edge stamping add $10. For double line stamping add $20. Finally for full coverage stamping such as basket weave or floral carving on a holster or belt  add $49.95 each. For lining add $49.95 per item.  Shipping is a standard $20 USPS priority, insured with tracking.
COLORING: If you are wanting several items please try to order them at the same time. We are then able to cut them out of a single cow hide. If you order at different times or we have to use different thicknesses or leather in your order it is possible there will be a slight difference in color within the same shade. When you order, note that this, as well as normal small bites or barb wire marks show the character of the leather and as such not something we can control or guarantee.
CHOICE SUEDE AND LEATHER: Note that Chisholm's Trail sources their double and single side suede exclusively from "THE HIDE & LEATHER HOUSE" of Napa Valley, California. To visit them contact: https://www.hidehouse.com/ 
VEGETABLE TANNED LEATHER CHOICES BELOW
We produce all of our items in russet, vegetable tanned, Wickett & Craig fine tooling leather.  For oil base color stain in Saddle Tan, Cowboy Brown, Old Walnut, Chocolate, Gunfighter Black, or Havana Mahogany add $10.00 to each item. Please note! that variations in color and darkness will occur from one cowhide to another. We can not guarantee the exact shade if you order items at different times. The final process will be hand rubbed saddle finish. Leg ties, hammer thongs, or snap straps add $10.. Shipping and handling will be $24.95 depending on the box size and destination. There will be additional charge if special shipping or large boxes are required. Rifle scabbards add $30 shipping.
After several requests we are adding "Havana Mahogany." This is a deep, rich, dark reddish color that adds class to your holsters- especially the modern ones. Top is one coat and the bottom is two coats.
HOW TO MEASURE FOR A GUN BELT ~ BE SURE TO READ THIS
DO NOT

trust your pant or belt size as marked. Take a soft tape measure and put this around your midsection right where you would like to wear your gun belt, over the clothes you are going to wear. Snug it up horizontally and give us that measurement. We will make several additional holes so you will be able to adjust as needed. For pant belts measure inside your belt loops. Belts longer than 49 inches add $20 to cost. Normally belts would have 5 or 7 holes of your choice.

ANTIQUING AND DISTRESSING
We have been asked to do this for several of our holster rigs in movies. This is a time consuming and dusty process requiring wearing a respirator, rubber apron, gloves and safety glasses. Here is a photo of the Founder applying this antique process. Please add $59.95 per piece for this process.
SEE OUR "

OTHER GEAR

" PAGE FOR MODERN SEMI AUTO, REVOLVER & DOUBLE ACTION HOLSTERS ~
Note: we make gear based on the stock firearm and accessories. If you have modifications such an accessory rail on your firearm, an extended clip or a bumper pad at the bottom of your magazine then it is your responsibility to let us know because the clip pouch or holster may not fit. Please enjoy looking over the photos on this site. Notice the various types of edge stamping, holster and Old West gun belts and designs so you have an idea if what you might want when you call. You may "click" on any photo to view an enlarged photo. Our special focus is on clean neat even stitching and smooth finished edges. You can call and leave a message any time, but we are available most evenings. Saturday we will be in the shop working on your holster and gun belt. We believe in the personal touch and will enjoy discussing any new project or design with you. If we have not made it before we will make it anyway. I've lost count, but I know we have over 600 different patterns for our leather gear we make and are adding new ones each week. I hope you will enjoy owning one of these contemporary originals as much as we do making them. If your order is other than what we have in stock, then it will be a special order and will require a pattern charge. Please allow at least 6-7 months for assembly and delivery of most orders. ***NOTE ALL PRICES SUBJECT TO CHANGE WITHOUT NOTICE***
CHISHOLM'S TRAIL GEAR IN MUSEUM DISPLAYS

~
Chisholm's Trail has been asked to provide authentic cowboy gun leather for display at the following museums: The Billy the Kid Museum in Ft. Sumner, N.M., The Booth Western Art Museum in Cartersville, Georgia, the Texas Ranger Museum in San Antonio, Texas, and the new Texas Ranger Museum in Fredericksburg, Texas. When possible Chisholm's Trail obtains original examples of period gun leather and will often display them with reproductions to enjoy.
The photo below illustrates one of the best ways we have seen for displaying old west firearms and Chisholm's Trail gun leather. CLICK ON PHOTO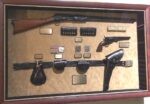 To understand how a cowboy holster should be made please take the time to view the video below!
This video was presented by the Founders of Chisholm's Trail leather and left in place for both historical and informational purposes. This is the original Chisholm's Trail leathercrafting shop.
Chisholm's Trail Leather from SMD Productions on Vimeo .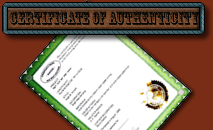 "Upon Request" Gun Leather sets will come with a

"Certificate of Authenticity"

for only $10.00. If your order is the first one of the style then you get your certificate FREE with # 1 stamped into the leather.

Old West gun belts and holsters, western custom leather belts and other cowboy gear is what Chisholm's Trail Leather is famous for, partner. Give us a call to order yours now. We enjoy what we do and look forward to making yours- " Ride for the Brand."
A COUPLE OF COMMENTS WE LIKE TO SHARE
"THE BITTERNESS OF POOR QUALITY AND INFERIOR GUN LEATHER REMAINS LONG AFTER THE SWEETNESS OF LOW PRICE AND QUICK DELIVERY IS FORGOTTEN."
The Wait is Worth it…
"NO ONE WILL EVER LIVE LONG ENOUGH TO WEAR OUT A Chisholm's Trail Holster"
 NOTE: Indian replicas not made by Native Americans as defined by 2.5 USC & 305 ET SEQ.
While we were at the NRA we met the folks from Wolf Premium oil and were very impressed with their products. I tested some on my guns and these products work super. If you want the best oil for your collector firearm or knife, look no further than Wolf oil. Contact them at  www.wolfpremiumoil.com or call Lon Baker, the President, at (336) 549-1908.
Social Media tags: old west gun belts, western leather holsters, custom western belts.
Links and resources: western belt buckles
Harris Family Custom Creations, LLC
    P.O. Box-2515 Weatherford, Texas 76086
                                          (817) 594-1239