Because of very high demand, all of these Dodge City Marshal items are extremely limited and if you want one, or all of them please contact us as soon as possible.  If you have any questions please feel free to e-mail or call anytime reasonable East coast time.
DODGE CITY MARSHAL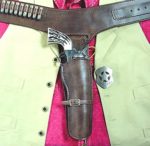 Finally this year Chisholm's Trail has obtained the correct pattern and color from an original holster and gun belt used on the series to make the famous Dodge City Marshal's rig. Attention to detail was focused on the smallest details such as the small rectangular buckle on the holster cross strap, The long row of back stitches on the holster throat, the squared ends of the sewn on tongue and buckle ends of the gun belt, as well as the 1 1/2″ chap buckle ~$549.95. "Our version", including badge is $589.95 plus shipping and handling. For antiquing and distressing as shown in the photo add $49.95 per piece. The owner of the original rig and SAA was hired on the TV series as a young man to shovel up horse droppings between scenes. He once asked the actor playing the Dodge City Marshal if he could have the gun and leather when the series ended and he was astonished that it was given to him many years later when the series finally was over.
DODGE CITY MARSHAL BADGE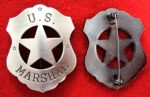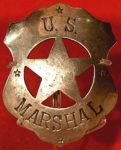 We have tracked down the badge worn most during the 20 seasons this show was on the air. It is on display in the Minnesota Historical Society museum, along with his hat and boots. Upon close examination we found that the (L) on the word Marshal is very unique with the top of the letter facing the right. Watch any close up in the series and you can see the (L) clearly.
We were fortunate to find a law enforcement badge maker to reproduce this badge just as it is in the museum, with the unique (L). This is a thick badge with a hinged pin and (C) clasp just like current peace officer badges. It is for sale at our introductory price of $59.95 plus shipping and handling. Only small batches are made by hand and production will be limited.
DODGE CITY MARSHAL PANT BELT & BUCKLE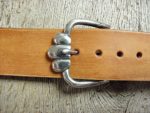 So many of our repeat customers have requested that we make the Dodge City Marshal's famous pant belt buckle as well. Everyone that has ever watched an episode can not help but notice the silver colored, heel bar buckle with three large humps or fingers. this pant belt was so liked by the actor that he made it official that he wanted to wear it in every season after the first one. We took all existing black and white and color photos and measurements, as well as examining the original on display. Our Native American Jeweler created a wax model which we made changes to until it was perfect. This model then went to our partner foundry where a mold was made and it was cast in solid American White Bronze to give it a sterling look. This buckle will fit up to a 1 3/4″ belt, which we make from a pattern of the original also. Buckle is $59.95. Buckle and belt is $159.95, plus shipping and handling. Buckle available in solid sterling silver for $250 (P.O.R.) For antiquing and distressing as shown in the photo add $49.95 per piece.
DODGE CITY DEPUTY MARSHAL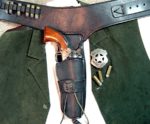 This Dodge City Deputy Marshal rig will fit up to a 5 1/2″ Colt SAA or Clone. The "Gunfighter Black" rig is fully lined and comes standard with 24 bullet loops centered on the back. More loops can be added for $2 per loop. The trigger guard is exposed and the holster has a wide laced drop loop across the front like the original. For most seasons there was a tool edged concho on the cross strap.  ~ $549.95. . "Our version," With Deputy Marshal Badge ~ $579.95. For antiquing and distressing as shown in the photo add $49.95 per piece.
DODGE CITY DEPUTY MARSHAL BADGE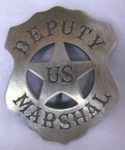 (IN STOCK) Replica Deputy Marshal badge as worn in 11 seasons and 304 episodes. Two badges were used with different fonts. Our replica uses the antique western font. Badge has a heavy pin clasp on the back side and is not as thick as the U.S. Marshal badge ~ $39.95
DODGE CITY GUNSMITH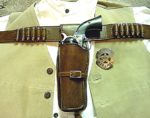 The Dodge City Gunsmith was finally was hired as one of the Marshal's Deputies. This actor went on to play a main character in  "Tombstone." Although Not a true Buscadero, this rig did use a 4 1/2″ to 5 1/2″ buckle strap holster from one. The gun belt was 2″ wide and tapered down to 1 1/2″, using a rectangular California buckle. This rig had six bullet loops on both the tongue and buckle ends. At times the rig had six bullet loops centered in the back and on other rigs he wore, there six sets of suede (X) lacing- your choice. Talking to the actor at the Wanamaker Collector's show last year I was told that although the leather looked black it as really dark walnut, again your choice. "Our version"~ $499.95. Can be made in left or right hand. With Deputy Marshal Badge ~ $539.95 For antiquing and distressing as shown in the photo add $49.95 per piece.