Authentic Old West Holsters
Authentic Old West Holsters by Chisholm's Trail Leather.
Scroll down till you see the two photos. Click on the HISTORICAL HOLSTERS words below to see our line of authentic old west holsters and gun leather OR click on the WESTERN MOVIE HOLSTERS words to see our line of movie holsters and gun leather.
Now you can have authentic old West holsters, just like your Western heroes, partner. Chisholm's Trail Leather makes authentic Old West holsters just for you. Tombstone, Wyatt Earp, Ike Clanton, Johnny Ringo, Doc Holliday, we got'em all and more. Authentic Old West holsters at Chisholm's Trail Leather. Check out both pages below:
All photos are thumbnail size. To get a larger view of any holster you choose, just click on the photo and it will enlarge. Click again and it will get even larger.
Note:
1. Cartridge belts standard with up to 18 bullet loops in your caliber. Additional loops are $1 each.
2. Your choice of oil base color stain from the choices on the home page $10 per piece.
3. Due to rising costs in supplies, materials & leather, prices have increased $10 per item. 
4. See home page for color choices on photo with cowboy boots. 
5. For lining now add $40 per piece.
6. For antiquing and distressing add $49.95 per piece.
7. For belts over 49″ add $10.
8. For semi autos- If you have an extended magazine or bumper pad at the bottom,  it is your responsibility to let us know and you will need to send one of these into us for correct fit if we are making a magazine pouch for you.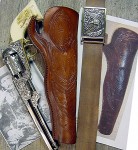 See our Historical Holsters